Bring back national (civic) service, says Demos
The think-tank reckons a new 'civic corps' would bolster communities and equip young people for work.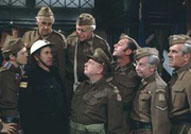 One of the more interesting stories of the weekend was a new Demos report (funded by the estimable Private Equity Foundation) calling for the creation of a new national service-style community work scheme. The idea is that this newly-formed 'civic corps', modelled on similar programmes in North America, will provide help to recession-hit communities at a time when public money is drying up, and teach disengaged young people transferable skills like teamwork and communication. The idea has come in for some fierce criticism, particularly over its funding plan. But employers may argue that we need to try something to make young people better equipped for the world of work…

Demos (run by ex-MT columnist Richard Reeves) thinks we need to start with service learning at school, giving kids the opportunity to get involved with social action projects (like mentoring younger children). It also wants a service NVQ for 16-18 year-olds, a paid-for 'gap year' programme that allows 18-24 year-olds to take a full year out for some kind of community service scheme (like Americorps in the US), and a reform of the Jobseeker's Allowance rules so young people engaged in service can still claim benefit. Other suggestions include 100 compulsory hours of community service for undergraduates, and an extension of postgrad schemes like Teach First that put talented grads into socially-minded professions.

Even if you don't buy the Tory rhetoric about 'Broken Britain' and the need to rebuild our communities, there's a clear problem here that needs solving: one in five 18-24 year-olds are currently out of work, and employers are always complaining that young recruits (both at graduate level and otherwise) just don't have the right skills. And evidence from North America suggests that these civic service schemes are associated with greater engagement, improved skills, and better academic outcomes – as well as providing a clear return on investment ($2.20 for every loonie spent in Canada, apparently).

Of course, the big question is always: how are we going to pay for this? And that's when we get to the controversial bit. Demos thinks students should foot the bill, on the grounds that their state-subsidised education gives them an earnings premium of £600,000 over the course of their careers. So it wants to ramp up the interest rate on student loans to 2.5%, a move that will immediately generate £1.32bn a year. This may well cover the cost of the civic corps – but since it will presumably also disincentivise (particularly poorer) young people from going to university, and hence improving their employability, it seems a rather odd trade-off. (Besides, the government's own figures, released today, suggest the premium is actually much smaller than Demos suggests).

So we're not totally convinced by the mechanism. But as a concept, a national civic service has a lot to be said for it.

In today's bulletin:
Why the taxpayer's backing Irish mortgages and oil tankers
City not buying Tesco's festive cheer
Bring back national (civic) service, says Demos
The Parent Project: How can I press the pause button on my career?
MT Video exclusive - CEOs are from Mars, CIOs are from Venus