Britain is addicted to external CEOs
More than half of top bosses hired last year in the UK came from outside their business - bucking the global trend.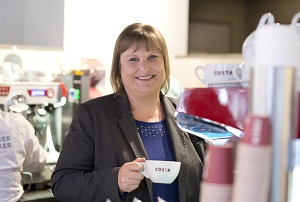 The internal versus external hiring debate is one that has rumbled on for time immemorial. Somebody like new M&S boss Steve Rowe, who has spent his entire working life at the retailer, will know the business and its customers inside out. But on the other hand an external candidate, like the new Whitbread boss Alison Brittain (formerly of Lloyds, pictured), comes with fresh ideas and a lack of baggage that allows them to really shake things up.
At the moment it seems most of Britain's boards prefer the latter option. According to a study published by PwC's Strategy& arm this morning, 58% of the chief execs hired by Britain's 300 largest companies last year were external candidates. That's unusually high – the four-year average is just 40% and globally just 23% of companies chose an external candidate last year. 'Hiring a CEO from outside the company used to be seen as a last resort,' said PwC's UK consulting leader Ashley Unwin. 'That is not the case anymore, as UK companies are making more external CEO hires than ever before.'
This surge in external hiring perhaps reflects a sense that the country's businesses are going through profound change at the moment. Digital technology has been around for a long time now but it's only in the last few years that many of the nation's boardrooms have woken up to just how significantly it is going to change their business models – whether they're in retail, banking, gambling or transport. In times of profound change a new pair of eyes can be invaluable.