Britain in briefs: Norwich wears Y-fronts, Scottish men go bold, Brummies like it tight
More people are shopping online in the wee small hours and Brits are getting back into a good cuppa, according to John Lewis.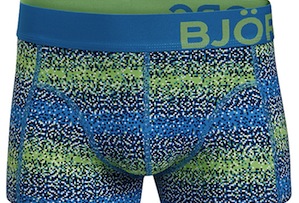 Ever wondered what Britain's men keep in their top drawer? Your curiosity may soon be sated. Bristolians like their cotton boxers, Brummies favour tighty-whities and Londoners buy more long-johns than anywhere else in the UK, according to John Lewis' annual 'How we shop, live and look' report.

Y-fronts are the pants of choice in Norwich, also favoured by one of its most famous sons, Alan Partridge. Meanwhile, if Scottish men keep anything under their kilts it's bright jersey underwear, according to the department store.
Credit: John Lewis
Photos of Prince George on tour with his parents sparked a craze for baby sailor suits, sales of which shot up 13% in April. The release of Wolf of Wall Street back in January also coincided with a 75% increase in the sales of pink socks, as men got inspired by Leonardo Di Caprio's dwarf-tossing style.

Tea time also looks to be coming back into fashion for John Lewis' middle class customers too, with sales of teapots, strainers and other infusion-related items up 22% in the last 12 months. DVD players and iPod docks are falling out of favour as people stream films, TV shows and music, as are onesies and black socks.

The retailer's mobile traffic overtook desktop for the first time on Christmas Day last year and more than half of online visitors now visit via smartphones and tablets. Shoppers are also more switched on than ever, with internet shopping between the hours of midnight and 6am increasing 30% in the last year.

Purchases late at night are perhaps somewhat guilty - the most popular late night buy was a Playstation 4. Online buying also fits with what people are doing at that time of day, though. Sleep-deprived parents buy toys and other nursery paraphernalia around 4am, hungry customers buy cutlery before lunchtime and men shop for suits after midnight (probably after spilling drinks on a night out).

But online sales growth is slowing in areas where it most popular, such as London, John Lewis' managing director Andy Street (who had to apologise last week after saying France was 'finished') said at the launch of the report, according to the Telegraph. Is that an end in sight we spy to the rise and rise of internet shopping?