Britain failing to get women on boards
The surge in women NEDs has been dampened by slow growth in executive numbers.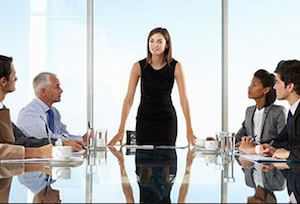 Britain's largest companies are lagging behind the target set by Lord Davies in 2010 for 25% of directors to be women before the general election. There are currently only 263 women directors in FTSE 100 firms, only 23.5% of the total, meaning the target is unlikely to be met.
A closer look at the data shows a more worrying pattern. While 28.5% of FTSE 100 non-executive directors (NEDs) are now women, only 8.6% of executive directors are. At the very highest level, it's even worse.
Only five of the country's 100 biggest firms have women CEOs (Véronique Laury at Kingfisher, Moya Greene at Royal Mail, Carolyn McCall at easyJet, Liv Garfield at Severn Trent and Alison Cooper at Imperial Tobacco), and only two have a chairwoman (Susan Kilsby at Shire and Dame Alison Carnwath at Land Securities). This follows research that 43% of firms with a turnover greater than £1bn have no women on their boards at all.