Is Britain still Great for SMEs?
It's Small Business Week in the UK - but do entrepreneurs still think it's a good place to operate?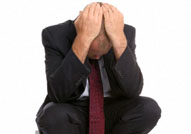 With the prospects for the UK economy looking gloomier by the day, you couldn't blame entrepreneurs for being a bit dubious about the current business environment. Enterprise might have a higher profile than ever in Britain, but as spending slows and bank lending all but dries up, small businesses are bound to face a tough time in the coming months. Last month, Barclays suggested that the number of UK SMEs would drop by 150,000 by early 2010…
So perhaps it's no surprise that Britain's SME bosses seem divided: according to an Orange Small Business Jury poll this week, 36% now believe that Britain is no longer a good place to do business - while 32% said the exact opposite. Of course, one reason for this is that nobody quite knows how bad things are going to get in 2009 – and nearly 60% said a revival in the economy was key to their fortunes (compared to only 21% for that old chestnut, a reduction in red tape).
This uncertainty also seems to be changing aspirations: 43% of respondents to the poll suggested that running a successful business was all about having a great reputation, while 27% plumped for happy customers – compared to just 19% who think it's all about big profits. In the circumstances, that's probably a bit of luck.