Britain kowtows to China as its economy sputters
The red carpet is rolled out for President Xi Jinping's state visit as his government massages the official GDP numbers.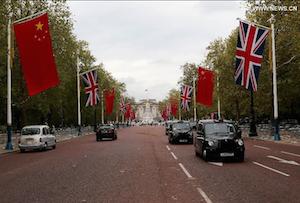 China's president Xi Jinping is getting a reception fit for an emperor on his first state visit to the UK. For four days from today, David Cameron will be kowtowing all the way down the red carpet, as the government bends over backwards to persuade the Middle Kingdom to invest in Britain.
Slightly inconvenient, then, that official data out today showed the Chinese economy grew 6.9% in the third quarter of this year, the slowest rate since the start of 2009 and a touch below the government's target of 7% for 2015.
Not to mention the fact that numerous Chinese economy watchers are highly sceptical about the validity of the official numbers, given the turmoil in its stock markets this summer and numerous non-official data indicating a serious slowdown. Citigroup chief economist Willem Buiter and consultancy Capital Economics both think GDP growth will really be just 4% this year. Fathom Consulting is predicting as low as 3%.