Britain has too many pubs, says Enterprise
When even pub companies think Britain has too many boozers, you know the industry's in bother.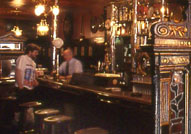 More trouble for Enterprise Inns today – Britain's second biggest pub owner reported a 21% dip in annual profits, failed to reassure the City about its £3.5bn debt pile, and offered a pessimistic outlook on the coming year. CEO Ted Tuppen has already flogged nearly 400 'non-core' (for which read unprofitable) pubs, as it tries to turn things around – and with cash-strapped Britons likely to put less money behind the bar of their local in 2010, more disposals are likely to follow. We may have plenty of sorrows to drown at the moment, but Tuppen reckons we just don't need this many boozers…

As profits tumble – from £209m last year to a measly £11m this time round – Enterprise has been actively trying to reduce its estate. This is partly in a bid to cut its net debt, which currently stands at an eye-watering £3.5bn. But it's also because some of them just aren't making any money. Just over 80% of its pubs are doing reasonably well, but the rest are seeing trade dwindle amid consumer belt-tightening and fierce competition from supermarkets. So that presumably means over 1,000 of Enterprise's 7,400 pubs could be in the firing line in the coming months.

It wasn't all bad for Enterprise: some of the regions are doing better than others – notably London, where average income is down just 3% (and of all the places in the UK which you'd think had too many boozers, London would be top of the list). And at least the Office of Fair Trading has let pub companies off the hook over the licensee tie – in fact, Enterprise insists, it's provided 'unprecedented levels of support to licensees' lately (although only the good ones, you understand).

But the pub industry is clearly in a bad way, and Tuppen issued a plaintive appeal today for more Government support: 'For the vast majority of pub goers in the UK, the pub remains at the heart of their community... This vital part of British culture is under greater threat than ever before.' Sadly, we suspect this plea may be more in hope than expectation – we can't see politicians propping up the booze industry (although we imagine they'll keep propping up the Commons bar). In fact, if anything, it's a likely target for higher taxes when whoever's in charge finally attempts to fix the public finances. No wonder Tuppen's glass is half empty...

In today's bulletin:
Vince Cable demands windfall tax on banks
EasyJet profits nosedive as fuel gamble back-fires
Britain has too many pubs, says Enterprise
'The worst storm in real estate history'
Lady Geek: Is technology different for girls?