Britain ready to chip in billions to Ireland bailout?
George Osborne says Britain is 'ready to support Ireland'. If that means money, it'd be controversial. But given our exposure to Ireland, do we have much choice?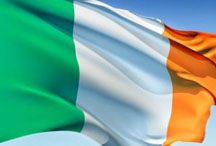 More frantic negotiations in Brussels this morning, as EU finance ministers reconvened to discuss the plight of poor old Ireland. With markets still jittery and an EU and IMF delegation about to be 'parachuted' into Dublin, a full-scale bailout looks increasingly likely (even though Ireland continues to insist it doesn't need one, natch). The question is: will the UK have to chip in? Since we're not part of the Eurozone, bailing out an over-borrowed Eurozone state will be a tough sell for the UK Government. But given how much stuff we sell to Ireland, and given how badly our banks are in hock to its borrowers, the Coalition may decide that it would be bad for Britain if Ireland effectively goes bust...

That was certainly the line being peddled by George Osborne this morning. 'We are going to do what's in Britain's national interest,' the UK Chancellor told the press. 'Ireland is our closest neighbour and it is in Britain's national interest that the Irish economy is successful and we have a stable banking system.' In other words, if Ireland goes kaput, it will mean big losses for our banks - analysts as Morgan Stanley reckon that they've lent more than £80bn to Irish borrowers, with a substantial chunk of this from state-owned RBS. It's like John Paul Getty's old saying: if you owe the bank $100; that's your problem; if you owe the bank $100 million, that's the bank's problem. So it's no wonder that 'Britain stands ready to support Ireland in the steps that it needs to take to bring about that stability,' as Osborne puts it.

However, since Britain isn't in the Eurozone, shelling out our hard-earned cash to support Ireland will be a hugely controversial move for the Government - even if the money could technically come from the financial stability scheme, to which all EU members contribute, or from the IMF, to which we also contribute. And the most vocal opponents of a UK contribution - which could be as much as £7bn of money we haven't got - will probably be the Government's own Eurosceptic backbenchers, who will doubtless argue that this is precisely why we steered well clear of the euro in the first place.

The trouble, as far as Osborne and co are concerned, is that Ireland is not just a major debtor to the UK. It's also a major trading partner - currently a more significant one than Brazil, Russia, India and China put together, as David Cameron has been telling us non-stop lately. It contributes about 2% of GDP by buying British stuff. So there's a lot to be said for making sure that it stays afloat. Depending on how the eventual bailout is structured, one option might be some kind of side deal, so we could chip in some money without it looking like we're participating directly in a Eurozone bailout. Since it's all the same money at the end of the day, that seems a bit silly to us. But that's politics for you.
How do you feel about UK money being used to prop up the Irish economy? A step too far? Or a necessary evil? Let us know below.