Is Britain set for its own Dubai-style debt debacle?
Morgan Stanley reckons the UK could be facing its own debt crisis as early as next year...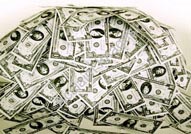 The US investment bank has just released a fairly damning assessment of the UK's fiscal problems: it claims we could be the first of the G10 countries to face a full-blown debt crisis next year, should the general election fail to produce a decisive result. The extra uncertainty about how we're going to pay back our spiralling national debt would encourage investors to flog their sterling and Government bonds, potentially threatening Britain's AAA-debt rating and derailing the recovery, it suggests. Admittedly this is a worst-case scenario – but if the debacle in Dubai proves anything, it's that investors can lose confidence in a country very quickly…

We're not sure what they've put in the drinking water over at Morgan Stanley this week, but its economists are in a pretty gloomy mood. In a note to clients yesterday, it warned that Mervyn King's NICE decade (Non-Inflationary Constant Expansion, lest we forget) is about to give way to a GRIM decade, i.e. Growth Really is Mediocre. OK, so this is a fairly lame acronym - but MS says it's appropriate because the weak jobs market, slow wage growth, faster inflation and higher taxes will combine to drive down our standards of living. How lovely.

And if that wasn't cheery enough, it's also fretting about the possible consequences of a hung parliament. If the winning party doesn't have a big enough majority to push through its tax cuts, meaning that we can't start eating into the £800bn+ debt pile that we've racked up during the last couple of years, Morgan Stanley reckons investors might start getting nervous. And a flight of capital from the UK would not only increase the Government's borrowing costs substantially, it would also force the Bank of England to hike interest rates before it wants to – raising the possibility of us slipping back into recession.

It's worth stressing that this is just the opinion of one investment bank – and even then, it's a doomsday scenario that will only happen if the Government can't (or won't) address our debt problem. It's equally possible that the economy will start to recover before the election, one party will win a clear majority (that's still the bookies' opinion) and we'll slowly start to balance the books, keeping investors happy.

On the other hand, the scenario MS describes doesn't sound totally implausible. If nothing else, it's a reminder of how important it is for whoever's in charge to come up a with a credible debt management plan. As Dubai has found to its cost, failing to tell the markets exactly what's going on is a sure-fire way of draining confidence in your ability to fix the problem.

In today's bulletin:
Is Britain set for its own Dubai-style debt debacle?
Greene King and Wetherspoon bring cheer to battered pub sector
Chairmen and non-execs could face annual re-election
Get serious about CSR, say Gen Y-ers
The Parent Project: Why should we care about parental rights?