Britain's Most Admired… Chemicals
Another platinum-coated performance puts catalytic converter specialist Johnson Matthey almost 12 points clear of the field, after a 34% rise in revenues in 2007 and an 18% rise in pre-tax profits.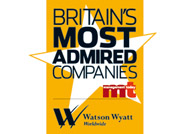 1. Johnson Matthey – 67.7
2. Victrex – 55.9
3. ICI – 55.2
4. Croda International – 50.4
5. Elementis – 48.1
Booming demand for Victrex's Peek high-performance engineering polymer led to the opening of a new £32m factory in Lancashire in October. ICI was one of the original stocks on the very first FT30 share index back in 1935; in August this year, it was bought by Dutch multinational Akzo Nobel for £8bn. Speciality chemicals group Croda, founded in 1925 to produce lanolin, now makes 'surfactants, speciality lipids and fatty amides'. It had a solid year, posting a 23% rise in interim profits to £34.7m. Fifth-placed Elementis gained a new CEO, American David Dutris, in January.