Britain's Most Admired… Banking
It has been a pretty eventful year in the banking sector. Not only has there been a huge takeover battle, there's also a full-blown financial crisis.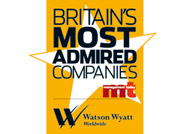 1. Royal Bank of Scotland – 63.5
2. Barclays – 61.1
3. HSBC – 60.2
4. HBOS – 58.9
5. Standard Chartered – 55.6
RBS edged ahead of Barclays as the Most Admired – just as it did in the €70bn battle for control of Dutch bank ABN Amro, which has consumed so much time and money this year. But the big news has been the global credit crunch, which has changed the landscape dramatically. The most high-profile casualty was of course Northern Rock – more than £20bn in debt to the Bank of England and facing extinction. But most of the banks on our list have suffered – even RBS and Barclays have seen billions wiped off their share price this year.