Britain's Most Admired… Building Materials & Merchants
The continuing popularity of urban regeneration has helped Marshalls to clinch a win in its sector.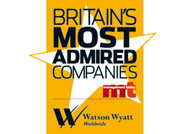 1. Marshalls – 65.1
2. SIG – 62.7
3. Travis Perkins – 59.9
4. BSS – 59.2
5. Hanson – 55.9
First-half profits were up slightly to £27.4m at the Huddersfield-based maker of 'hard landscape products' – that's paving and kerbstones to you and me. Roofing and insulation outfit SIG is up two places, after a hectic first half involving 22 acquisitions and a 30% increase in sales. Travis Perkins – which dates back to 1797 – soars to third in sector, on the back of an impressive £18m rise in profits to June. Heating and plumbing specialist BSS won its biggest-ever contract this year, refurbishing 11,500 soldiers' rooms for the MoD. Hanson, the 1980s colossus, bids farewell to Most Admired: it was bought in May by Germany's Heidelberg Cement for £8bn.