Britain's Most Admired… Insurance
Devastating floods provided the major headache for Britain's insurers this summer, while at boardroom level, closed life-fund manager Resolution prompted a three-way £5bn takeover battle between Friends Provident, Standard Life and Pearl Assurance.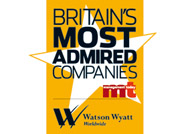 1. Admiral – 62.9
2. Legal & General – 61.0
3. St. James's Place Capital – 60.8
4. Aviva – 60.7
5. Standard Life – 59.3
But this year's Most Admired steered well clear of the scrap. Admiral Group profits jumped 26% in the first half as it opened offices in Spain and Germany. Italy and the US could be next on the agenda for the insurer, whose underwriting is renowned in the industry. L&G took the runner-up spot, despite being unable to maintain its 2006 momentum – unlike Admiral, the group is heavily dependent on the UK market, which is looking a lot less healthy than at this time last year.