How Britain's Most Admired boards have changed in a decade
A comparison of BMAC winners from 1996 and 2007 uncovers some notable changes in the boardroom...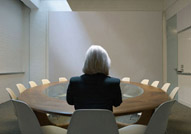 The boards of Britain's Most Admired Companies are smaller, more independent, more female, and more full of accountants than they were ten years ago, according to new research by executive search firm Heidrick & Struggles. In 1996, Heidrick's Dr Elisabeth Marx examined the boards of the BMAC top 20; eleven years on, she's just repeated the exercise with the 2007 top 20. And although she discovered that recent corporate governance reforms have made some impact, it's clear that Britain's boardrooms haven't made as much progress towards diversity as we might have hoped…
Dr Marx carried out her analysis on last year's top 20 (click here for this year's Most Admired), minus the five companies not then listed in the FTSE 100 index of Britain's biggest public companies. So 15 companies in total, which she compared with their counterparts of 1996. And it makes an interesting comparison – these are, after all, the businesses that have earned the respect of their peers, so you'd expect them to be beacons of best practice in the boardroom too. Certainly the original Marxist analysis (so to speak) suggested as much: the boards of the 1996 winners were more diverse than rivals not only in terms of gender but also in background and experience.
All in all there were 180 board directors of the 2007 top 15, 24 fewer than the equivalent figure in 1996. So the first thing to note is that UK plc has been trimming some of the fat in the boardroom. This is largely the result of the new corporate governance guidelines, which have also brought about a shift in the balance of most boards: the proportion of non-executive directors has gone up from 47% to 69%, as part of a move to give shareholders a better bulwark against the interests of the executive.