Britain's Most Admired Companies 2011: Retailers (broadline & home) sector
We may not be moving quite as often as we did, but we still like to make our houses into homes courtesy of choice gear from our favourite stores.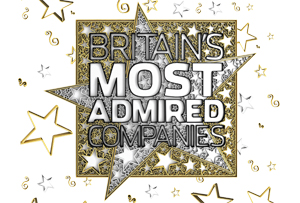 Ever-popular employee-owned John Lewis takes the top spot, despite a challenging market. In September, it reported an 18% fall in first-half profits. The first half of M&S CEO Marc Bolland's second year at the helm ends with sales up 2.4% to £4.7bn. He's our Most Admired Leader and M&S takes the overall award for attracting, retaining and developing talent. B&Q owner Kingfisher slips one place to third, but has unveiled a brand-new strategy and is rated top in sector for quality of management. It also created 1,200 jobs after buying the remnants of Focus DIY. Department store Debenhams has defied the downturn with annual pre-tax profits of £166m, while profits are up – to £83.3m – for the fifth year running at home furnishings firm Dunelm.
BMAC 2011 by sector: Retailers (broadline & home)
| | | | | | | | | |
| --- | --- | --- | --- | --- | --- | --- | --- | --- |
| | QMan | Rank | FS | Rank | QG&S | Rank | AAT | Rank |
| Carpetright | 6.3 | 8 | 4.7 | 8 | 5.0 | 9 | 4.3 | 9 |
| Debenhams | 7.2 | 4 | 5.8 | 5 | 6.1 | 6 | 5.8 | 4 |
| Dixons Retail | 7.0 | 6 | 3.4 | 10 | 6.3 | 5 | 5.1 | 7 |
| Dunelm | 7.4 | 3 | 7.0 | 3 | 6.3 | 4 | 5.6 | 5 |
| Home Retail Group | 6.2 | 9 | 4.8 | 7 | 4.9 | 10 | 4.9 | 8 |
| John Lewis Partnership | 8.0 | 2 | 7.9 | 1 | 8.4 | 1 | 7.9 | 2 |
| Kesa Electricals | 5.3 | 10 | 4.3 | 9 | 5.4 | 7 | 4.3 | 9 |
| Kingfisher | 8.1 | 1 | 7.1 | 2 | 6.6 | 3 | 7.1 | 3 |
| Marks & Spencer | 7.2 | 4 | 6.9 | 4 | 7.5 | 2 | 8.3 | 1 |
| Wilkinson | 6.3 | 7 | 5.7 | 6 | 5.2 | 8 | 5.3 | 6 |
| | 6.9 | | 5.8 | | 6.2 | | 5.9 | |
(Continued)