Britain's Most Admired Companies 2013: No 6 - Stagecoach
Speeding into the top 10 this year is the company best known as a train operator, which moved its focus to coaches just as passengers made the same switch. MT finds out whether it has any intention of applying the brakes.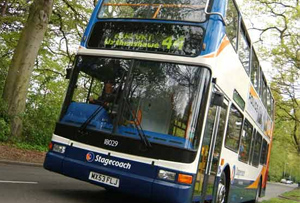 As punters trade down from plane to train and car to coach, the rail and bus giant founded by chairman Brian Souter and his sister Ann Gloag in 1980 is riding high. It's up 73 places from last year, making it the highest climber in this year's top 10. Revenues in 2013 are up £214m to £2.8bn and its Megabus long-distance coach service is even proving a hit with car-loving Americans. Back in the UK, where its rail franchises include the South West and East Midlands regions, it has put in a bid to run the Docklands Light Railway in east London and may bid for the East Coast Main Line route with its West Coast partner Virgin.