Britain's Most Admired Companies: A bumpy ride that's far from over
This year's winner Unilever is a worthy champion, a company with an admirable reputation got the hard way, by careful nurturing over many decades.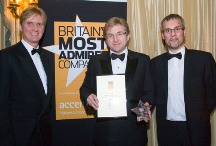 Artistic licence aside, 2010 really has been a rollercoaster ride for UK plc, a year that began with what seemed to be the bottoming out of the recession and the start of the climb back to growth. And yet here we are 12 months on from the previous Britain's Most Admired Companies Awards, facing the realisation that recovery now looks less certain than we hoped and, instead of a steady climb to sunlit uplands, we're looking at a pretty bumpy and uncomfortable journey to a future where the sun may not be shining.
[CLICK HERE TO SEE OUR DEDICATED BMAC MICROSITE]
But little is to be gained by dwelling on such gloomy prospects. It won't make them any less likely to happen. Far better to realise that the bumps in the road, the poor visibility and the uncertainty of our destination are not transient but are here to stay. This is the new normal; the NICE decade of non-inflationary constant expansion is over, and the successful firms and individuals are the ones who embrace the situation with energy, optimism and vigour.