Britain's Most Admired... Engineering - aero and defence
First-placed for the fourth consecutive year, Rolls-Royce left the 2007 Paris Air Show with $15.1bn of business.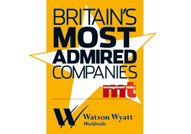 1. Rolls-Royce – 66.3
2. Cobham – 62.8
3. BAe Systems – 61.2
4. GKN – 58.0
5. Meggitt – 56.0
The decision to build its first manufacturing plant outside Britain has been unpopular, but a new British Airways contract worth £2.5bn and a 10% increase in group sales, to £35.1bn, made up for it. Cobham leap-frogged into second place this year, despite £27m currency translation costs and a £29m shortfall in revenues due to disposals. And it still managed to fork out £22m for Patriot Antennas. A potential Serious Fraud Office enquiry hasn't deterred BAE Systems, with new contracts including a £946m Ministry of Defence order. Pre-tax earnings rose 17% to £700m in the half-year to June 2007, but share prices dipped in October when CEO Mike Turner resigned in mysterious circumstances.