Britain's Most Admired... Engineering and machinery
Actuator manufacturer Rotork held on to the top spot by dint of strong growth in the oil and gas sectors.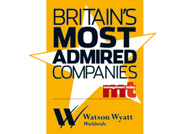 1. Rotork – 63.4
2. IMI – 63.3
3. Weir Group – 61.1
4. Spirax Sarco Engineering – 60.0
5. Bodycote International – 56.1
Shares climbed more than 10%, following a 12% rise in revenues to £113.3m for the six months to 30 June, and in October, Peter France took over as chief operating officer. IMI announced that 40% of production would be in low-cost economies by the end of 2008, but has had to spend £5m on investigating kickbacks being offered by its agents. Interim results showed revenue up by 7% to £781m. The Weir Group sold Glasgow-based Weir Pumps for £45m and bought SPM Flow Control of Texas for £328m, prompting an 11% jump in shares. Half-year pre-tax profits were up 40%, to £45.4m.