Britain's Most Admired... Food producers and processors
New Unilever chairman Michael Treschow is overseeing some much-needed modernisation, axing 20,000 jobs and selling off the US laundry business.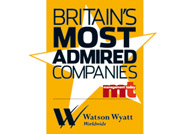 1. Unilever – 64.5
2. Cadbury Schweppes – 61.0
3. Associated British Foods – 56.4
4. Premier Foods – 56.2
5. Tate & Lyle – 56.0
So far, so good: pre-tax profits for the third quarter were up 21% to £1.07bn. Cadbury Schweppes, still paying for last year's salmonella problems, has moved out of its Mayfair HQ as a series of belt-tightening measures kick in. But confectionery sales grew 10% in the third quarter, and hopes are high after the demerger of the global confectionery and US beverages businesses. Ever-growing Associated British Foods seems undeterred by poor performer Kingsmill. Adding Pataks and 15% of W Jordan & Son to its portfolio, ABF's year-end profits rose by 10% to £613m.