Britain's Most Admired... Health and household
In a bad year for pharma, GlaxoSmithKline is still on top but paying for poor sales of controversial diabetes treatment Avandia.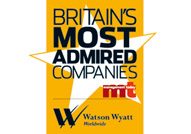 1. GlaxoSmithKline – 64.3
2. AstraZeneca – 60.6
3. Reckitt Benckiser – 59.1
4. Smith & Nephew – 58.5
5. Shire – 54.8
Third-quarter profits are down 4% to £1.88bn, with £700m annual cost cuts announced. CEO-in-waiting Andrew Witty has his work cut out. Second-placed AstraZeneca is similarly beleaguered, announcing a 7% fall in third-quarter profits, with patent battles looming over its top-selling products. Acquisitions costs related to the £15bn purchase of American biotechnology firm Medimmune have hit hard. Bronze medalists: at Reckitt Benckiser, year-to-date net revenue grew by 11% in the third quarter, and full year targets have been raised. Growth was driven by new products and a boom – thank you, British weather – in Nurofen and Strepsils.