Britain's Most Admired Leader: BMAC's beast Sir Terry Leahy bows out
In March next year, after 31 years with the same firm, 19 of them on the board and 14 as the top dog, Sir Terry Leahy will stand down as chief executive of Tesco.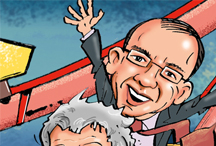 He will likely go down in corporate history as the most accomplished British manager of his generation, the business he built as certainly the country's most successful retailer and arguably its best-run company, full stop. Group operating profit has risen 340% since he took over and Tesco is now the world's third-largest superstore outfit.
It will be the end of an era for Britain's Most Admired Companies, too. Under his leadership, Tesco has won the coveted overall award an unmatched six times, in 1996, 1998, 1999, 2001, 2005 and 2006. It has wiped the floor with its nearest rivals for the most honours garnered - Shell, Cadbury and M&S. These three runners-up, no BMAC slouches themselves, have managed only a pair of wins apiece.
But Leahy has an even more impressive personal track record - including this year's win, he has been named Most Admired Leader for no fewer than eight of the past 10 years.