Britain's Most Admired... Leisure & hotels
It's as you were in the leisure category, with Intercontinental romping home in top spot again, closely followed by Carnival and First Choice.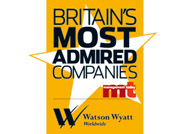 1. InterContinental Hotels – 64.1
2. Carnival – 61.7
3. First Choice – 61.3
4. Whitbread – 61.0
5. Ladbrokes – 56.9
The world's biggest hotel operator has had a hectic year, signing up another 55,000 rooms in the first half – that averages out to two hotels every day. It's also spending $1bn re-branding its Holiday Inn chain. Carnival, the $28bn cruise operator, suffered – like most of the travel industry – from the escalating cost of fuel, and also bid bon voyage to veteran CEO Bob Dickinson. But it still saw profits rise 12% in the third quarter. UK travel company First Choice tried to sell its package holiday division and ended up merging with TUI's travel division. So far, integration plans remain on track.