Britain's Most Admired... Media
Eleven points up from last year, BSkyB came top in its sector on every criterion, and third overall.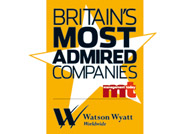 1. BSkyB – 72.0
2. WPP Group – 64.0
3. Pearson – 63.1
4. Reuters – 61.3
5. Informa – 60.6
CEO James Murdoch continues to impress the City with his empire expansion, although his 17.9% share in ITV and the spat with Virgin Media are still causing problems. Third-quarter profits fell 27% to £121m as the broadcaster absorbed marketing costs and strong growth of its heavily subsidised Sky+ recorder. WPP, meanwhile, delivered underwhelming Q3 revenues, but it is still expected to hit this year's forecasts and have a good 2008. Pearson, however, is on track to deliver an impressive performance across all its companies. It recently sold newspaper Les Echos to LVMH for €240m.