Britain's Most Admired... Oil, gas & extractive
It's been a terrible year for BP, in a sector that faces considerable challenges.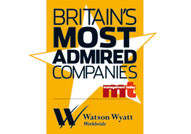 1. BP – 63.5
2. BHP Billiton – 63.3
3. BG Group – 63.0
4. Rio Tinto – 60.7
5. Royal Dutch Shell – 59.9
New CEO Tony Hayward replaced Lord Browne, who was forced to resign in May. A new broom, Hayward at least has the chance to flex his sweeping muscles. Already, he has settled various claims against BP's North American operations by agreeing to $380m in fines for various violations, including the 2005 Texas City oil refinery explosion. The board also needs to find a replacement for chairman Peter Sutherland, and to rectify BP's poor financial performance, including a 45% drop in profits for Q3. Mining giant BHP Billiton has been busy with a takeover bid for Rio Tinto, which, if successful, would create one of the world's biggest companies.