Britain's Most Admired... Property
Top again, the UK's biggest property group, Land Securities, is about to undergo some radical restructuring, following pressure from investors for a break-up.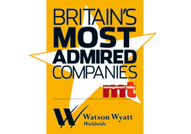 1. Land Securities – 63.5
2. British Land Co. – 61.1
3. Capital & Regional – 58.0
4. Great Portland Estates – 58.0
5. Derwent London – 57.8
New chairman Paul Myners (ex-M&S) is to divide the £7bn property giant into three businesses – outsourcing, retailing and a portfolio of London properties. This comes at a tricky time for the sector, with fears of a slowdown prompting a collapse in share prices. Many of the biggest property companies, such as Land Securities and British Land – which pulled out of the sale of its huge Sheffield shopping centre Meadowhall because of this summer's credit crunch – were down by about 20%.