Britain's Most Admired... Restaurants, pubs & breweries
Diageo keeps the top spot, with operating profit up 8.7% to £2.2bn.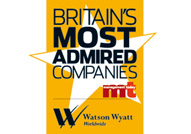 1. Diageo – 66.5
2. Mitchells & Butlers – 60.6
3. SABMiller – 60.5
4. JD Wetherspoon – 57.7
5. Greene King – 57.0
Its ambitions are global, with a new distillery in Scotland, investment in baijiu, a traditional Chinese spirit, and a Guinness sales push in Africa. M&B, owner of All Bar One and O'Neills, has made up for the smoking ban by investing in pub food. And it has worked: food sales have grown by 7% in established outlets. Overall revenue for the first half of 2007 leapt 12.2% to £995m. SABMiller, up two places this year, has joined forces with Canada's Molson Coors to take on the North American market. Last month, it paid £583m for Dutch rival Grolsch. Half-year profits were up 21%.