Britain's Most Admired... Retailers (food & personal)
What further vindication does Stuart Rose need? The M&S chief exec's kiss of life has done the trick - the revitalised company topped the vote in this sector in every category except one.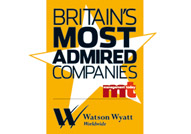 1. Marks & Spencer – 76.3
2. Tesco – 72.9
3. J Sainsbury – 67.1
4. Next – 58.7
5. Burberry Group – 57.3
The Rose revolution delivered another 40% jump in profits in the first half of this year. Time now to consolidate and focus on expansion. Tesco and Sainsbury both escaped largely unscathed from a Competition Commission enquiry – presumably, after frantic lobbying. While Tesco focuses on expansion in the US, Sainsbury's ends the year it spent most of as an £11bn bid target with a triumphant 20% rise in profits to £232m for the half-year.