Britain's Most Admired... Speciality & other finance
Was this the year when Britain's top financiers flew a little too close to the sun?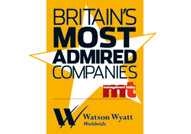 1. Icap – 67.6
2. Man Group – 64.2
3. 3i – 62.8
4. Cattles – 56.6
5. Schroders – 51.1
Private equity took a particular bashing – although the appearance of FTSE-listed 3i proves PE isn't all bad. But in a field where Britain can claim to be a world leader, the financial whizz-kids behind these shadowy firms are bound to come back for more. Most Admired was Michael Spencer's Icap – the inter-dealer broker actually performs better when markets are volatile, and expects annual profits to be 20% higher than last year. Second-placed Man Group also took the turmoil in its stride, recording a 21% profit hike. It made $1.7bn by floating its US brokerage arm in New York earlier this year.