Britain's Most Admired... Transport
easyJet soared despite rising fuel costs. Passenger numbers at the end of October were up 14% on last year, helped by European growth and a stronger presence at Gatwick.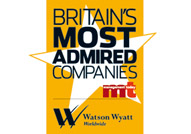 1. easyJet – 63.0
2. Stagecoach – 57.6
3. British Airways – 57.3
4. Go-Ahead Group – 55.6
5. National Express – 55.3
Stagecoach's impressive year was powered by profits at its South West Trains franchise, and at Virgin Trains, in which it has a 49% stake; new contracts included the East Midlands rail franchise. BA drew colourful headlines – a £350m bill for price-fixing, a crucifix row, and being named Europe's worst airline for losing luggage. But net debt dropped to £1.3bn (from £6.6bn in 2001), and pre-tax profit for the six months to September was a record £593m. Its pensions struggle looks settled, and it has $8.2bn-worth of new planes on the way.