Britain's Most Admired... Utilities
Challenging times for power providers, with punters being urged to cut consumption. But Scottish and Southern Energy drew a million new customers with its price-cutting measures.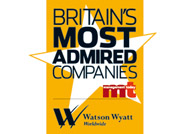 1. Scottish & Southern Energy – 59.1
2. National Grid – 55.5
3. International Power – 50.1
4. Centrica – 50.1
5. Kelda – 47.2
Pre-tax profits for the six months to September were up 42% to £664.7m. National Grid finally managed to seal its $7.3bn acquisition of KeySpan, the US gas and electricity group, after 18 months of wrangling; it's now the second-largest utilities company in the US. Bush fires hit International Power's business in Australia, but its operational profits for the nine months to the end of September were up 12%, at £634m. It bought Trinergy for £586m, becoming one of the world's biggest wind power groups.