Britain's Most Admired...Retailers (general)
Carphone Warehouse's revenues are up 18% to £2.1bn, fuelled by its AOL broadband business.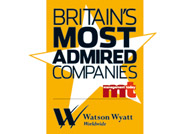 1. Carphone Warehouse – 62.4
2. Halfords – 55.1
3. Home Retail Group – 54.1
4. DSG International – 53.0
5. Kesa Electricals – 52.9
More than a thousand US stores are to be opened over the next two years. Halfords started 2007 by cashing in on the cycling boom, and can thank an increased demand for satnav for helping it through the feeble summer. Year-end revenue was up 9.1% to £744m, and rumours of a takeover by Autobacs Seven have given shares a boost. Argos' persistent ad campaign is working: sales were up 50% for the half-year, helping parent company Home Retail Group to a 34% increase in profits (to £136.1m).