Britain's Least Admired Companies 2011: Bottom of the pops
The winners have been feted. Now it's time to swap the sparkling upper waters of the admiration pool for the turbid depths, where the bottom-dwellers lurk - Britain's Least Admired Companies of 2011.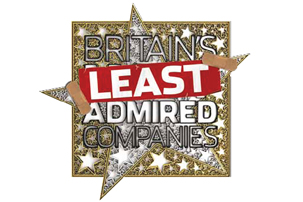 Bringing up the rear this year is one of the nation's oldest and best-known brands, the inventor of the package holiday, Thomas Cook. Founded in 1841 by a temperance preacher, the firm made its name through Cook's Tours, 'improving' journeys around Europe for the newly moneyed Victorian middle classes.
But a fortnight all-inclusive in Magaluf no longer appeals to today's earnestly adventurous travellers, for whom the satisfaction of arranging their own camel train across the Namib desert is half the fun. With a squeeze on consumer spending and political disruption in many popular Middle Eastern holiday destinations, Thomas Cook has suffered mightily.