Britain's leisure industry is booming
Live music fans will push leisure spending beyond £80bn this year. Good news for the nation's ticket touts?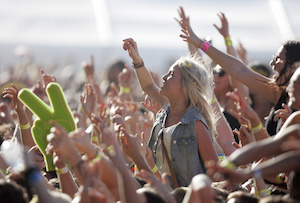 The rise of online ticket touts has been lambasted both by the general public and the artists whose tickets they sell with consumer group Which? recently chiming in to say these platforms cheat customers by flouting the Consumer Rights Act.
With that in mind, you might think music fans are becoming increasingly jaded by the process ­– often missing out on tickets to see their favourite acts, or having to shell out a small fortune to get their hands on a resold ticket.
Not so, according to Mintel, which said Britain's spending on leisure activities will break the £80bn mark for the first time this year, driven by a booming live music market. It grew 45% between 2010 and 2015 with Brits predicted to spend £2.1bn on festivals and gigs in 2015.