Britain's music industry has upped the tempo
Ed Sheeran, Sam Smith and Ellie Goulding have helped drive up growth by 5% this year.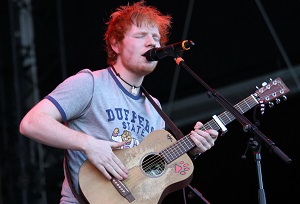 With online streaming on the rise and iconic live venues closing their doors, you could be forgiven for thinking that the music industry in Britain, and elsewhere, is in a spot of bother. While it's true that artists have been complaining about the impact of Spotify et al on their pay packets, Britain's music industry is actually outstripping the economy at large.
According to a report by the trade body UK Music released today,the industry now employs 117,000 people and contributed £4.1bn in gross value added to the economy in 2013, up 5% from the previous year.
Of that, £2.1bn was generated by exports - a much higher proportion than in most other industries. According to UK Music's chief exec Jo Dipple, that reflects the international success of big-name artists like Ed Sheeran, Ellie Goulding and Sam Smith, who recorded the theme song for the new James Bond film Spectre. British artists were responsible for one in seven of all albums sold globally last year.