Britain's Top 100 Entrepreneurs 2014: No. 1 - Victoria Beckham
The Spice girl turned fashion entrepreneur is worth £210m.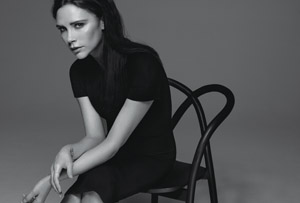 Number 36 Dover Street, Mayfair is home to popstar-turned-fashion entrepreneur Victoria Beckham's first shop. Beckham is living proof that celebrity may be the most marketable commodity of all. The 6,000sq ft boutique is the latest triumph for the designer and former Spice Girl - who also happens to be married to David, undercrackers model extraordinaire and the world's most famous ex-footballer.
The grand opening followed her topping a poll to find the greatest 'style icon' at London Fashion Week in September and the rapturous reception given to her SS15 collection in New York. Now with a looser style, the range includes separates and luxury handbags selling at up to £18,000 each.
But it's her finely tuned business acumen that wins her the top spot in MT's 2014 ranking of Britain's top 100 entrepreneurs. It is 20 years since Victoria, born into a comfortably-off Essex family, started her pop career with a bang as a chart-topping Spice Girl. After a brief solo career, she launched her eponymous label in 2008. Always an adept exploiter of her own celeb value, by 2011 she was a fixture at New York Fashion Week and had introduced a lower-priced Victoria, Victoria Beckham label for the more impecunious fan. In the same year she won designer brand of the year at the British Fashion Awards.