Britain's Top 100 Entrepreneurs 2014: No. 3 - Mahmud Kamani, Boohoo.com
The online fashion entrepreneur is worth £290m.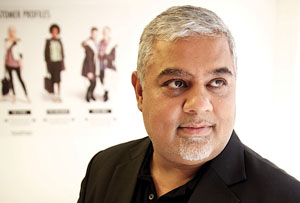 The online fashion operation based in Manchester's trendy Northern Quarter floated on the stock market in March valued at a cool £560m. Mahmud Kamani co-founded Boohoo.com in 2006. Although shares in the retailer - whose wares include fake fur gilets at £30 a pop - have had a roller-coaster ride since, the business is growing fast, with sales and employment up 746% and 369% respectively over the past five years. New local-language websites in Europe are helping exports and, in a £10m investment, the firm's warehouse capacity in Burnley will more than quadruple, with staff in the new 820,000sq ft facility getting a 12% pay rise to boot.
Age: 50
Activity: Online fashion
Wealth: £290m
Latest turnover: £110m
Five-year rise in turnover: 746%
No. of employees: 394
Five-year rise in employment: 369%
Score: 30