Britain's Top 100 Entrepreneurs 2014: No. 4 - Julian Dunkerton, Supergroup
The fashion entrepreneur is worth £332m.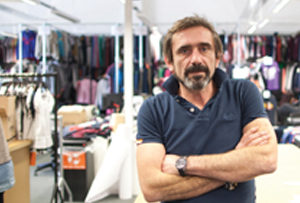 Cheltenham-based Julian Dunkerton floated SuperGroup, the business behind the hugely successful Superdry clothing label, on the stock market in 2010. Its roots date back to when 19-year-old exam failure Dunkerton dropped out to travel the world. Returning to his home town, he saw a gap in the fashion market and decided to set up on his own, raising capital by working in a factory and as a fruit picker. Adding £2,000 borrowed from family, in 1985 he rented a shop due for demolition, and made £16,000 in his first year. After a wobble in 2012 when profits were overstated by £10m, SuperGroup is back on track with forecast profits of £70m this year. Celebrity fans include David Beckham and Ed Sheeran.
Age: 49
Activity: Fashion
Wealth: £332m
Latest turnover: £431m
Five-year rise in turnover: 374%
No. of employees: 2219
Five-year rise in employment: 178%
Score: 35