Britain's Top 100 Entrepreneurs 2014: No. 90 - Dame Vivienne Westwood, Vivienne Westwood
The fashion entrepreneur is worth £50m.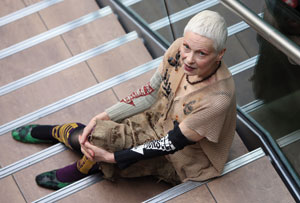 Made a dame in 2006, the punk- turned-fashion grande dame received her insignia from the Prince of Wales. Westwood's mother was a weaver and her father came from a family of shoemakers. Leaving grammar school at 16, Westwood attended Harrow Art College, but left after a term, explaining: 'I didn't know how a working-class girl like me could make a living in the art world.'
After training to become a teacher, in 1966 she met Malcolm McLaren, who later managed the Sex Pistols. The pair worked together from 1970 to 1983, gaining a reputation for avant-garde clothes and political activism. She went on to forge a substantial solo career and business, with shops all over the world, and clients including Princess Eugenie, Gwen Stefani and Pharrell Williams. Last year, her main company, Vivienne Westwood, showed £3.2m profit on £29.4m of sales.
Age: 73
Activity: Fashion
Wealth: £50m
Latest turnover: £29m
Five-year rise in turnover: 38%
No. of employees: 216
Five-year rise in employment: 64%
Score: 229