Britain's youngest small businesses add £360m to UK economy
Nicknamed TOTs by Henley business School, these bright young ventures are going gangbusters, turning over more than £360m and creating 70,000 new jobs over the next 12 months.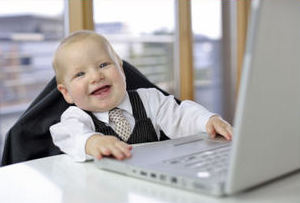 The acronym may be dire (TOT stands for Twelve months old, Optimistic and Technologically-minded) but these bouncing baby businesses are one of the few good news stories for UK plc.

According to the latest Henley Business School small business research, the TOT, a new breed of agile and tech-savvy British business, is growing quicker than the average start-up and raking in the pennies with uncharacteristic speed.

HBS surveyed 253 start-up business owners (11-16 months old) in October and found that over half of TOTs (51%) predict they will increase revenues by 30% or more in the next 12 months. That's an extra £30,000 to £75,000 in turnover per firm. If just 10% of firms started in 2011 achieve 'TOT' status, it will add a minimum of £360 million to the British economy.

TOTs are also creating jobs to service this growth. The study reveals the average TOT employs four permanent staff, with the majority (89%) planning to recruit at least two to three more over the next year.

The top five 'TOTspot locations in the UK are:
| | |
| --- | --- |
| London | 3 to 4 new jobs created per TOT |
| Manchester | 3 to 4 new jobs created per TOT |
| Liverpool | 3 to 4 new jobs created per TOT |
| Leeds | 2 to 3 new jobs created per TOT |
| Bristol | 2 to 3 new jobs created per TOT |
So, what does it really mean to be a TOT? Mobile technology is at the heart of these zippy new firms. Nearly all TOTs (98%) rely on smartphones for emails, organising their day and accessing business apps like Salesforce.com. They also use social networking sites like Twitter, Facebook and LinkedIn to promote products, network with potential customers and get real-time feedback. The benefits of this approach have been highlighted by Accenture which claims companies that invest early in social media reap returns as high as 20 to 1.

Henley Business School's Professor Dominic Swords says: 'TOTs have made it through the teething phase and have a different mindset that will challenge traditional businesses. They see opportunities in challenges, showing the benefits of a positive attitude in winning market share and leading a growing business.'

And these TOTs are no fools: 'They're realistic about the challenges they face,' adds Swords. '82% are developing strategies to manage the risks and uncertainties in the future.'

TOTs may be small, but they have global ambitions. Nine out of ten TOTs export goods and services to markets around the world - 49% trade with Western Europe and 44% with Eastern Europe. And they are keen negotiators too, bartering for cut-price stock, services and suppliers: two thirds (77%) refuse to commit to any long-term contracts or leases. It's all about being nimble and running rings around the dinosaur businesses, they say.