British Airways profits nosedive
British Airways' half-year profits have plummeted by 92% - so why has its share price soared this morning?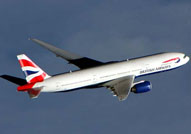 BA said this morning that its pre-tax profits totalled £52m between April and September, a 91.6% drop from the £616m it recorded in the same period last year. Bemoaning the 'incredibly difficult trading conditions', CEO Willie Walsh said this last six month period would be remembered as 'one of the bleakest on record' – and thanks to an ill-advised fuel hedge and a continuing fall in demand, the next year's unlikely to be much better. However, Walsh did say that he expects BA to end the year in the black – and he's been rewarded with a 10% bounce in the share price...
It's been a grim six months for the airline industry: dwindling demand and the spiralling fuel cost has already claimed some notable casualties, including Alitalia and several smaller airlines (including, predictably, the business-class specialists), while the larger carriers have been seeking alliances with rivals as they try to weather the storm. Even the likes of Ryanair have seen profits tumble (although naturally it seems convinced that it will win out in the end). Premium revenues – those provided by smug-looking passengers who turn left when they board the plane, rather than right into cattle class with the rest of us – have been badly hit, down by 9%. Not least because there aren't quite so many 'money-no-object' masters of the universe plying the global airways as there were a year ago.
So in the circumstances, Walsh might be right in saying that an operating profit of £140m, and a 6.4% increase in revenues, counts as a 'good performance'. He also pointed to a 'significant' improvement in punctuality (apparently there was one day in October that 95% of its planes left on time, which it seems unduly proud of) and the benefits it's finally reaping from a fully-functional Terminal Five. However, with its cost line increasing by a painful £711m – thanks largely to the increase in its fuel bill, which is likely to be up about 50% for the year as a whole – it's not surprising that BA's profits have been hammered. Investors seem to have taken the view that any profit at all is a decent result in the current circumstances.