British American Tobacco burned by bribery allegations
A Panorama investigation claims the company paid off government officials in Africa.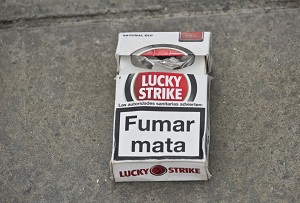 Big Tobacco's reputation hasn't been whiter than white for a long time, but one of its biggest players was dealt another reputational blow yesterday. A documentary by the BBC's Panorama programme alleged that British American Tobacco (BAT) illegally paid politicians and civil servants in Africa in order to find out information on its competitors and get sympathetic treatment.
The allegations are based on the testimony of a whistleblower, Paul Hopkins, who used to work for BAT for 13 years in Kenya, and hundreds of 'secret' documents obtained by the BBC. The three officials it is accused of paying off include one former and two current members of the Framework Convention on Tobacco Control, a World Health Organisation campaign aimed at reducing the rate of deaths caused by smoking. The scandal could leave the company facing investigations by several governments, including in the UK and US.
All three officials deny the claims and so does BAT (whose brands include Lucky Strike, Dunhill and Rothmans). 'We are rightly proud that any alleged breach of our very high expectations of transparency and honesty is swiftly investigated,' the company told the BBC in a statement. 'Any proven transgression will lead to appropriate disciplinary action.'