British Energy powerless to stop profit slump
BE lost a quarter of its capacity last year - and judging by yesterday's blackouts, its problems continue...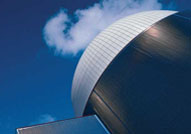 British Energy, our biggest nuclear power producer, said today that its profits dropped by 28% last year to £882m. And there are no prizes for guessing why: the various shut-downs and maintenance jobs at its power plants meant that its energy production was almost a quarter less than expected. It's a timely reminder – as if we needed it – of just how dodgy our power infrastructure really is in the UK.
Just to really hammer the point home, yesterday no fewer than seven big power stations all shut down in the space of a few hours, leaving thousands of homes and businesses without electricity. The power cuts (which affected Lincolnshire, Buckinghamshire, Cheshire, Cleveland and London, amongst others) were the worst in a decade, according to some observers – operations were cancelled, trains were delayed and half a million people were left in the dark.
And guess where it all started? Sizewell B, British Energy's flagship nuclear power station, which shut down unexpectedly at midday. So it was an unfortunate time for BE's chief exec Bill Coley to be protesting that Sizewell was operating at 'world-class standards', as he did today. Admittedly Sizewell hasn't shut down like this for more than three years (BE's recent problems have come at the Hartlepool and Heysham 1 plants) but it doesn't exactly bode well if this is supposed to be BE's best-performing plant...