British entrepreneurs move east to tap into China
With Hong Kong's financial powerhouse status under threat, the region is welcoming foreign entrepreneurs as a gateway to mainland China.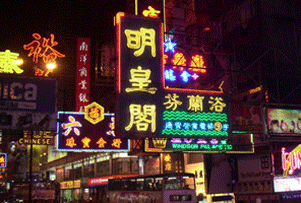 On the 21st floor of an office block in the affluent and lively district of Wan Chai on Hong Kong Island, freelance art directors rub shoulders with music producers and ecommerce entrepreneurs.

The Hive is one of a growing number of shared working spaces which have recently sprung up in Hong Kong. As more American and British start-ups head east to target China's burgeoning middle class, these shared working spaces are a popular choice for expats reluctant to pay for expensive offices.

'Real estate is in very tight demand here. People want something more exciting in which they can belong to a community,' says Elaine Tsung, who manages The Hive. 'The start-up culture has really picked up in the past couple of years. Hong Kong is a place where people can access the Chinese market quite easily, and it's very friendly and an easy place for people to get started. As an ex-British colony, English is widely spoken here.'

The Hive was set up two years ago by Constant Tedder, a Briton who moved to Hong Kong in 2012 to start a business after selling his stake in computer games company Jagex. It occupies five floors and offers a roof terrace – a rare luxury in a city crammed with skyscrapers and tower blocks. Full-time membership starts from HK$4,500 a month (£352) and freelancers, entrepreneurs and startups get access to a workstation and wifi 24 hours a day, seven days a week.

Some 90% of its members are expats, and many are from the UK. The concept has been so successful that Tedder is currently in South Africa, where he is considering opening another hub.
Image credit: The Hive
---
'For people coming to Hong Kong, renting an office costs a lot of money,' says Tsung. 'The process can be quite a pain and that's why we aim to make it easy. We're not in Central, the finance district, but we're only 2 stops away on the MTR [Hong Kong's equivalent of the underground]. Wan Chai is more lively.'

There are now 18 similar clusters in Hong Kong, up from just 3 in 2010. It follows a wider trend in the region where foreign start-ups are being encouraged to move to Hong Kong to take advantage of its generous tax laws.
More than 300 companies were created in 2012, according to the latest data. The largest number of entrepreneurs came from mainland China, followed by the US and the UK.