British manufacturing continues to engineer growth
Manufacturing expansion has slowed slightly, but is still booming.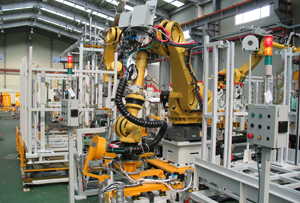 It's still all systems go for British manufacturing, as the sector expanded for the 10th month in a row in January, despite growth easing slightly.

The Markit/CIPS Purchasing Managers' Index (PMI) was at 56.7 in January, down from 57.2 in December. Anything above 50 indicates the industry is expanding, and the reading is well above the average of 51.3.

Both domestic and international customers want that 'Made in Britain' stamp, with UK manufacturers mentioning increased demand from North America, Europe, Asia, Brazil and the Middle East (almost everywhere then).

'Although the pace of output expansion has cooled slightly in recent months, growth is still tracking at one of the highest rates in the 22-year survey history,' Markit's senior economist Rob Dobson said.

'The broad base of the upturn is remarkable, with its benefits being felt across all product categories and at SMEs and large-scale producers alike.'

Employment also increased for the ninth straight month, with the rate close to November's 2.5 year high.

Britain won't be getting a German-style Mittelstand anytime soon (the core of Deutsch mid-sized manufacturers) – we're better at high-tech, science-heavy engineering, a la Dyson.

Indeed, Sir James Dyson himself has been bemoaning the lack of engineers in the UK, taking to the FT this morning to repeat his call to the government to stop kicking out foreign graduates. If the government wants manufacturing, which still makes up around 10% of the economy, to keep on growing, they'd do well to pay heed to Dyson's demands.