Britons not dropping and still shopping
Here's a pleasant surprise: October retail sales were more or less the same as last month...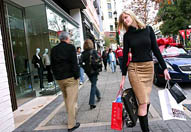 OK, so technically October retail sales were marginally down on September's figure (by 0.1%). But that's still a much healthier picture than everyone was expecting – most analysts were predicting a drop of 0.9%, in the belief that the deepening gloom was driving even more shoppers from the high street. But it will clearly take a lot to stop us Brits shopping – in fact, today's figures revealed that retail sales last quarter were 2.2% up on the same period last year. But the question is: at what cost...?
Of course, as with all these figures, it depends on how you look at it: the glass-half-empty brigade will point out that this is the second consecutive drop in sales, after months of apparently unstoppable growth. And the cynics will also see this as further evidence that the ONS figures are a load of rubbish – that they bear no relation to the true carnage on the high street. Compare the British Retail Consortium, which released its own figures for October retail sales last week: on a like-for like basis, it found a 2.2% drop on last year, with only food, drink and online sales showing any signs of growth.
And it's certainly true that retailers are finding it tough, if the current rash of November sales is anything to go by. Today, M&S is holding a 20%-off one-day sale on all its non-food items, in a bid to woo some early Christmas shoppers. Debenhams is also holding a three-day sale, while Sir Philip Green's various Arcadia stores are also offering big discounts. So they're all scrapping hard for our money. And if this has propped up sales to some extent, it will come at a price: all this money that they're spending on marketing and discounting will take a big chunk out of their profit margins.