Brits will gobble 10 million turkeys this Christmas
The Great British appetite for the festive, flightless bird is as ravenous than ever, according to new data from the British Poultry Council. We will consume no fewer than 10 million turkeys at Christmas.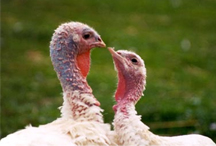 Feeling festive? MT has a few exciting turkey facts to get your juices flowing:
- Despite the recession, Brits are predicted to chow down on roughly the same number of turkeys as we did last year. Ten million of the things will be roasted, basted, and carved this Christmas, compared to seven million across the rest of this year.
- Around a third of turkeys are purchased frozen (MT has vivid memories of trying to defrost a 10lb beast in the bath one fateful Christmas morning - we made do with pigs in blankets in the end), and two thirds fresh.