Brown enlists Sarkozy in attack on banker bonuses
PM Gordon Brown is taking his banker-bashing global. A principled stand? Or blatant electioneering?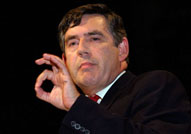 Not satisfied with trying to hammer his own bankers, Prime Minister Gordon Brown now wants to persuade the rest of the world to follow suit – perhaps because he's worried about a City exodus to Wall Street. Brown has had a letter published in today's Wall Street Journal – co-signed by French president Nicolas Sarkozy – calling for a 'new compact between global banks and the society they serve', with a 'one-off tax in relation to bonuses… considered a priority'. Although since most experts seem to think his own banking bonus tax won't actually work, some may see this as nothing more than a political point-scoring exercise…

Yesterday's Pre-Budget Report included a so-called 'bank payroll' tax, which will charge a one-off levy on any banks that pay out bonuses of more than £25,000. Brown points out – quite rightly – that the exceptional level of bank profits have arisen because of the Government's support for the banking sector. As such, he says, it is 'simply not acceptable for [taxpayers] to foot the bill for losses in a deep downturn, while institutions' shareholders and employees enjoy all the gains as the economy recovers.' Now he wants global action 'to ensure that taxpayers do not pay in a systemic crisis for the risks taken on by the banking sector.' (He even throws a reference to international aid and climate change in there for good measure). The choice of the WSJ suggests that the US may be the real target of this plea.

The problem with this bonus tax is that nobody seems to think it will actually work. UHY Hacker Young partner Roy Maugham told the Times it was 'one of the most easily dodged taxes in years', since all banks apparently need to do is avoid making formal bonus agreements until after the period expires in April 2010. Quite how HMRC will be able to prove that subsequent discretionary pay-outs are backdated is beyond us. In fact, the Government can't expect it to work terribly well or they'd be expecting more than the budgeted £550m of proceeds from it (since as Robert Peston points out, RBS alone ought to account for that).

So it's hard to avoid the conclusion that this is more about politics than principle – particularly since the PM spent the last decade sucking up to the City. And today's WSJ letter can also be seen in the same light: by teaming up with Sarko and claiming leadership in dealing with the issue, the PM makes himself look more statesman-like in the eyes of the electorate.

There's nothing wrong with the principle of taxing bank bonuses – in fact, it's a legitimate way to address public sentiment. But we'd rather the Government chose a tactic designed to generate debt-busting revenue, rather than just win votes.