Brown hits back after German bashing
The Government has reacted huffily to stinging criticism of Gordon Brown from the German finance minister...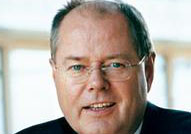 Britain's spat with Germany over how to deal with the economic crisis seems to have gone up another notch. Ahead of an EU economic summit in Brussels, German finance minister Peer Steinbruck accused Gordon Brown of 'crass Keynesianism', and scoffed at the idea that the recent VAT cut would do any good whatsoever. Today, Downing Street has retaliated by suggesting that the German approach was 'out of step' with other major economies. Gordon Brown and his German counterpart Angela Merkel are due to meet in Brussels later today – we'd love to be a fly on the wall for that one…
Steinbruck's comments came in an extraordinary interview with Newsweek, in which he made it pretty clear that he disagrees entirely with Gordon Brown's plan of spending our way out of recession. 'Are you really going to buy a DVD player because it now costs £39.10 instead of £39.90?' he asked (not unreasonably). 'All this will do is raise Britain's debt to a level that will take a whole generation to work off. The same people who would never touch deficit spending are now tossing around billions. The switch from decades of supply-side politics all the way to a crass Keynesianism is breathtaking.' Not the most diplomatic of rants…
Germany is the only one of the big Western economies not to be enthusiastically embracing the idea of a spending stimulus (though we're not sure how its €480bn bank bail-out fund fits with this philosophy). And these comments also suggest that Steinbruck and Merkel are planning to oppose the planned EU-wide stimulus package – hence the accusation from Whitehall today that they're out of touch with the prevailing wisdom. On the other hand, it will certainly embolden David Cameron's Tories, who have thus far been a lone voice arguing for greater prudence. Although we're not sure how many voters Dave is likely to win over by siding with the Germans...