Brown prepares £16bn state fire sale
Having already sold off most of our gold, our penurious PM is now planning to flog some of the family silver.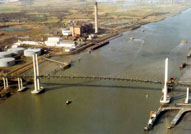 Prime Minister Gordon Brown told a City audience today that he plans to sell off a 'portfolio of non-financial assets' worth about £16bn in the next two years, including the Channel Tunnel rail link and the Dartford Crossing. The Government is trying to position this as the start of a 'radical assessment' of which non-core activities really belong in the private sector – although we suspect that plugging the gaping hole in the public finances is the more immediate motive. And while it's good that the Government is finally starting to talk about balancing the books, you might argue that flogging state-owned real estate in the middle of a property slump is not a very sensible move.

A whole raft of assets will be up for grabs in the great Government fire sale: as well as the Chunnel and the Dartford Crossing, Brown also wants to flog the Tote, the student loan book, various property assets, and perhaps most controversially, its 33% stake in the uranium enrichment consortium Urenco (rumours that they've had at least one serious expression of interest, from a Mr M Ahmadinejad, are yet to be confirmed). Local government assets will also be on the block, apparently (although Number 10 seems to have neglected to mention this to them, much to their chagrin). The PM said the proceeds would help the UK pay down debt and finance new investment.

There's certainly a decent argument that the private sector is a more natural home for some of these assets – assuming of course that there's no security implications (which the Government insists there won't be). But we very much doubt that this is a strategic decision – the Government just wants to pay off a bit of debt without having to make the kind of 'savage' cuts it's accusing the Tories of planning (although with public borrowing expected to hit £175bn over the next two years, whoever's in charge will need to go a lot further than this before Britain can 'start living within our means', as the Tories like to say). What's more, it's not very strategic to start selling off property and shares when their prices are at historic lows. We only get to sell this stuff once, and now isn't exactly a brilliant time to be maximising the taxpayers' gains...
Still, we know at least one group of people who'll be thrilled about this (ironically, in the circumstances): City investment bankers, who'll be rubbing their hands with glee at the thought of all those exorbitant fees they'll be able to extract from the Treasury for selling this stuff...

In today's bulletin:
Brown prepares £16bn state fire sale
ITV chaos continues as Bishop turns down chairman role
Ethical banking pays big dividends for the Co-op
Howard Davies on watching himself in 'The Power of Yes'
MT Expert's Ten Top Tips: Reducing fraud losses in the retail sector